There are two main parts to Radio Aid System – the Transmitter and the Receiver.
Laymand Guide to Phonak Roger Systems
Phonak Roger Transmitters
Phonak Roger Select and Phonak Roger Pen
In the majority of cases the main (primary) transmitter we supply to work with Roger receivers in a Phonak Roger system is either the Phonak Roger Select or the Phonak Roger Pen. Probably the best way to think about whether to choose a Roger Select or a Roger Pen (you would not choose both) as your primary transmitter is this; Select is suited best for personal, social use and when you are using it mainly sat at a desk / table meeting type scenario, and Pen is best suited when you are using it in very fluid situations, when you are on your feet and moving around a lot while using it.
They are both very versatile pieces of technology to be used in noisy situations, small groups and meetings. If you intend to use the equipment in an educational setting the most appropriate Roger transmitter may be different, or if you want it all to work in larger groups this may change also.
Our recommendation is that a single Roger Pen or Select is absolutely fine in one to one situations and in small groups up to 8 people perhaps, and to reduce the numbers down a little with severe / profound hearing loss.
Phonak Roger Clip-on Mic
Then you might want to consider adding extra Roger transmitters to the mix, in a meeting scenario around a table you might add Phonak Roger Clip-on Mics to be used by the chairperson of the meeting (maybe other key people as well), and you keep hold of the Pen to control what you emphasise in the meeting along with the Clip-on Mic (s).
Phonak Roger Table Mic
For larger meetings (say in a corporate environment) it may be more appropriate to consider the Phonak Roger Table Mic which works really well for larger groups. Depending on the area to be covered dictates the number of Table Mics required.
Here are some product videos
Phonak Roger Receivers
Phonak Roger Ear Level Receivers
At FM Hearing Systems we can supply Phonak Roger receivers that conveniently clip to the bottom of your hearing aids (if you wear BTE (behind the ear) hearing aids), tucked away neatly and discreetly, or you can wear a neck worn receiver with nothing clipped to your hearing aids.
Mostly and where we can, we advise that people use ear level receivers, particularly when wearing 'behind the ear' hearing aids, and where 'ear level' is not possible often there is an alternative with some kind of neck worn receiver.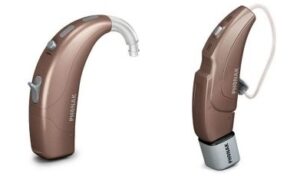 Phonak Roger ear level receivers can be universal (Like Phonak Roger X – they work in conjunction with any brand of hearing aid) or Integrated – they are specially designed to work with specific Phonak 'behind the ear' hearing aids, matching in design with Phonak hearing aids in colour etc).
If the hearing aid wearer is using any brand of hearing aid but Phonak the choice of ear level receiver needs to be Roger X, if the wearer is using Phonak hearing aids the alternatives are Integrated or Roger X.
The image to the left shows firstly a Phonak hearing aid with an integrated receiver attached, and then a Phonak hearing aid with a DAI shoe (used with all different brands of hearing aids as an interface to connect to Roger X receivers) and a Roger X receiver.
Top Tip for Phonak hearing aid wearers – integrated receivers are a little more elegant for sure, but it is worth considering how long you will be using your present Phonak hearing aids. If it is reasonably likely within a few years the hearing aids will be changed for a different model (Phonak or other brand), a universal receiver such as a Phonak Roger X may be a better option.
A Roger X can be used on a future model of hearing aid with only the minimal cost of an audio shoe (currently £20.00). This means the whole system can be used on any new hearing aids without the expense of new receivers.
Also it's worth noting that the integrated receivers can be colour coded to your Phonak hearing aids, but the Roger X always only comes in the one colour – silver.
The best way to frame the choice between universal and integrated receivers is that it's a straight choice between practicality and cosmetics – certainly worth some consideration!
Phonak Roger Neck Worn Receivers
A question sometimes asked of us when clients are considering purchasing a Phonak Roger system is 'Should I save some money and go for a Phonak Roger Mylink neckloop receiver or spend more money and choose Phonak Roger ear level receivers?'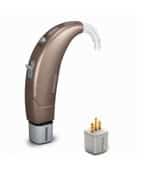 There are a number of advantages to using ear level receivers as opposed to a neck worn device like Phonak Roger Mylink. There is less to worry about, the receivers are always on and ready, the person using the equipment only has to concern themselves with the transmitter.
Using ear level Roger receivers the audio sent from a Roger transmitter is received straight to the hearing aid with no real loss of audio quality as a direct input, whereas using a Roger Mylink neckloop it receives the audio and it is converted to a telecoil audio signal (loop) to be received by the telecoil (T position) of the hearing aid.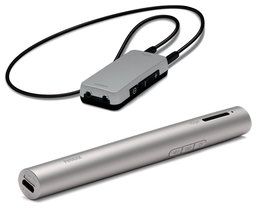 Roger ear level receivers are more expensive than a Roger Mylink neckloop but against that the negatives are as below;
Interference: As soon as you switch a hearing aid to "T" there is the potential problem of occasionally picking up inductive interference from mains wiring. Including overhead power cables and under floor heating, alarms, routers, fluorescent lighting strips, computer screens and other mains equipment nearby. If there are other loop systems nearby (for instance a room loop in the vicinity) one system can clash with the other. This can all be avoided by using ear level receivers.
Consistency: with a neckloop as you move your head around the sound level will vary and you may experience hotspots or even audio dropouts. This can be avoided to a degree by placing the neckloop under a jumper so it does not move around. With ear level receivers the wireless transmission is direct, from the sound source to the transmitter to the hearing aid. With a neckloop the sound needs to be transferred via the transmitter, to the neckloop and then to the hearing aid.
Sound quality: the frequency response of a neckloop is limited compared to using an ear level receiver via direct input. A Phonak Roger Mylink will offer a frequency range up to about 5.5kHz (a limitation of telecoil technology) whereas using ear level receivers the bandwidth is increased to near 7.5kHz.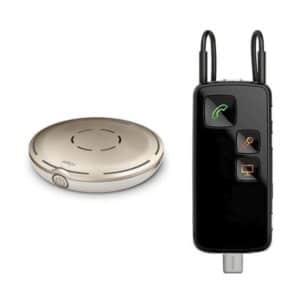 Just to confuse things a little there is another option – a streamer bundle. A lot of hearing aids available now are wireless compatible and can use something generically called a 'streamer'. In some instances (not all) they have an audio interface with three little sockets called europlug. You can plug a Roger X universal receiver into this socket, and with the combination of a Roger transmitter, a Roger X and a streamer you have an alternative way of using Phonak Roger with hearing aids.
Take Home Point : A Roger Mylink is a good alternative if ear level receivers can't be used. Wherever ear level receivers can be used though, ear level receivers should be the preferred choice. A good alternative in between the two is a streamer bundle. We usually recommend in this order – Ear Level, Streamer Bundle, Mylink.
Phonak Roger and Phonak Marvel Hearing Aid Technology
Just to confuse things a little more, if you wear the latest Roger Direct compatible Phonak Marvel or Paradise hearing aids, you can have a Phonak Roger transmitter streaming audio wirelessly DIRECT into the hearing aids with no external Roger receivers. For more information read this.
Phonak Roger and Telephony
Phonak Roger transmitters can be used with a mobile phone where the callers voice streams wirelessly into the hearing aid(s). If you wear two hearing aids the call streams direct into both ears. This makes full use of the response of the hearing aids, matching your hearing loss. Calls were never clearer!
The same result can be achieved with a landline telephone too, but it has to be a corded handset or headset for it to work (in conjunction with an adapter we can supply). It does not work with cordless phones.
Phonak Roger and VAT
Is the equipment for personal use only (with no business element and paid for out of personal funds) If so your purchase may be free from VAT. Please read this.
Summary
So if you need our advice we absolutely need the brand AND model of hearing instruments you are using. If you are interested in specific products let us know. We need to know the situations you are struggling with. What you are aiming to achieve.
With BTE (behind the ear) hearing aids we need the detail that is printed on the spine of the aids. ITE (in the ear) hearing aids we need the serial number that is printed on the shell or listed on your paperwork. Tip – If unsure take a clear and unblurred picture on your mobile phone and email it across to us.
You can email us with as much detail as possible regarding your requirements if you are sure you know what you want / need, and if you are still a little unsure of what you specifically need we suggest you complete our Product Guidance Questionnaire. Once completed we will email you a comprehensive breakdown of products and prices.