Video Reviews
Please watch the videos to hear our Phonak Roger clients Bev Gray and Trish Crowther explain what a huge difference Phonak Roger equipment has made to their working lives. Below the videos you can read how this fantastic technology has changed the lives of so many people throughout the UK!
Recent Phonak Roger and Course Reviews
Sometimes it's about more than the actual equipment we supply. We can forget as suppliers that it's not the kit or the service we provide in isolation, it's really about the improvement in people's lives. For us at FM Hearing Systems, it's really nice to be able to make a difference for the better in so many people's lives. Also, it's nice when customers go out of their way to thank the team for the work they do every day.
Adele was kind enough to send a card and some nice biscuits to our Hearing Hero Emma, thank you for making the extra effort Adele, it means a lot to us. Emma in particular was very pleased that you did!
I cycled to school today and collected all my hearing equipment. Am currently celebrating with a prosecco as it all connects and works 

. You have made a massive difference to my life at work and I look forward to putting the Roger devices near pupils I know will be off task then making them jump by asking, "And why are you talking about TikTok when you're meant to be discussing 'Macbeth'" 

Best wishes, Adele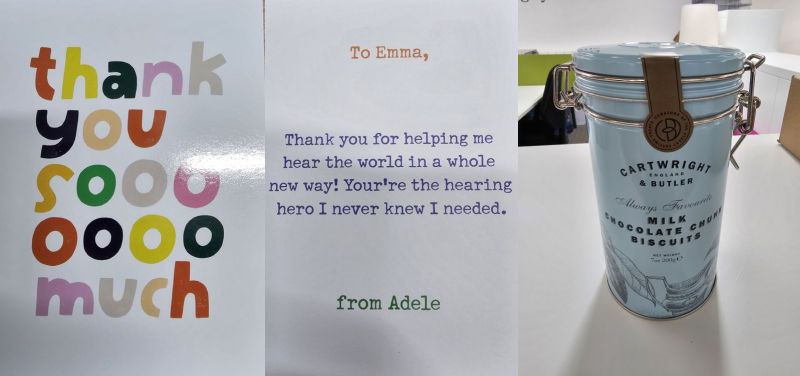 The Roger On has opened up a whole new world of hearing for me and it is all beyond anything I could have expected or imagined!
Since birth I have generally received a "just deal with it" attitude from everyone through school, workplaces and relationships when it comes to being deaf, so to receive such incredible support from FM Hearing Systems has really meant a lot to me.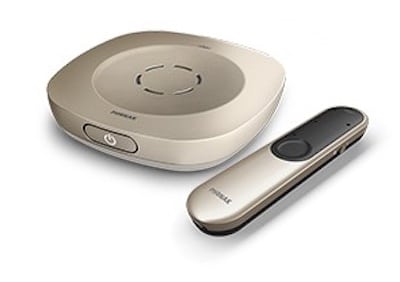 I'm even noticing more awareness from my colleagues now I have a nifty, attractive looking device forever in my hand to remind them subtly, which is such a weight off my shoulders.
Simple things like watching the TV without having to "accept" missing out on sentences, or even simply walking around my local supermarket with my husband was a challenge as he wouldn't always face me, therefore it was always tough, until now!
The Roger On has helped me so much that I have certainly noticed an improvement in my mental health, as the constant attempt to lip read etc. can take its toll!
My trainer Tracey was incredible; friendly, patient, kind, funny and thoroughly explained everything in depth, ensuring I understood her completely.
She even had equipment which allowed my manager to have a sample of what I may hear on a daily basis, which both my manager and I really found helpful and insightful.
It even got me a little emotional to finally have someone acknowledge how difficult life can be for a deaf person.
A million thank you's are still not enough for the change this has made to my life!
Kayleigh D., Esher
Equipment supplied – Roger On, Roger Table Mic Twin Pack, Roger X 03, DAI Shoes for Phonak Nathos Auto M, USB Headset Pack, Audio Splitter, On Site Training
I just would like to say a huge thank you to the team at FM Hearing Systems for helping me get through my daily struggles, and the support thats been given is outstanding.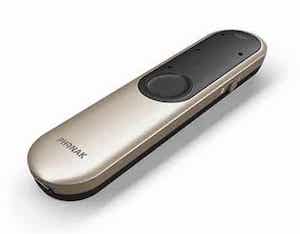 When I first had the call saying there is equipment that is going to help me I cried with happiness and then I had Gemma come out to my house to show me how everything works.
What a game changer it is to be able to watch TV with my family and be able to hear everything. You've given me a new life!
Phonak Roger has really helped me so much. It's a new world, and listening to the birds and to hear peoples accents is so strange.
Thank you once again.
Charlotte W. Telford
Equipment supplied – Roger On, Roger Clip-on Mic, Roger X 02 band receivers, DAI Shoes, On Site Training
The Roger On has opened up so many opportunities for me. I've been more or less isolated since I've had hearing loss over the course of 10 years but in the last year it has been almost total loss.
The Roger On now lets me drown out background noise that the normal hearing aid picks up. It's so easy to use and allows me to reduce background noise from certain areas within the room.
I can also now use my mobile phone to hear as all I could use it was for a smart phone and text messages prior to the Roger On, and also plug the Roger On into my laptop and hear all the training videos and video calls I need for work and use it for face to face discussion.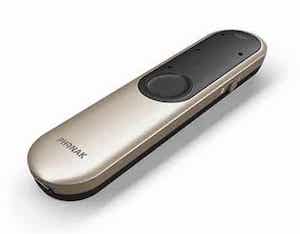 Don't get me wrong the hearing aids are good but they pick up everything and anything completely unfiltered. Roger On allows much, much more clarity. I can hear people all the way from the other side of the room and they no longer need to be facing me! Before I needed to listen using my hearing aids AND lipread!
Lee the trainer was absolutely fantastic invaluable, the training added so much more value to just obtaining a Roger On device.
Not only did he carry out the fitting and testing, he got rid of all my worries within a few minutes as I was sceptical that the items provided would not work but FM Hearing Systems and Lee know exactly what they are doing.
He showed me almost every scenario possible, the capability of the product and answered every question and query that I had. It was a nice relaxed environment. The way Lee explained it was so simple and easy to understand.
I also want to give Paul, Shaun & Emma a massive shout out, I ran into an issue where the device stopped working within a few hours of Lee visiting (due to a silly thing I had done) and they were nothing but responsive via email which was a massive help for me because I can't use the telephone and their comms were clear, concise, quick and relevant and what's more is they got me back up and running as fast as possible.
I didn't think you could get customer service like that nowadays but if I need something I'd definitely recommend FM Hearing Systems just on the after support you get. It's the best I've seen and I know I am in safe hands.
Well done all, you really don't know how much it means to people like me, you help enable us to live in a decent way and let us go on to do amazing things.
Sanj, Ilford, Essex
Equipment supplied – Roger On, Roger X 03 band for Phonak Nathos Nova PR, USB Headset Pack, On Site Training
Roger Select Review – When I discovered Phonak had discontinued my much loved Roger Pen, I was dismayed as could not imagine anything being better.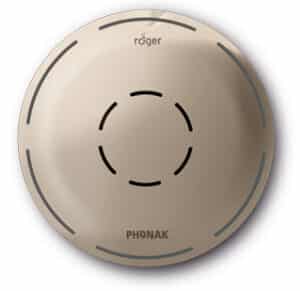 FM Hearing Systems gave me advice on the On versus the Select, and as I need to use my mobile for work, I opted for the Select.
I am over the moon with it – it's even better than the Pen! I especially value the quick charge time, now no longer needing to connect it manually to my Bluetooth every time I use phone.
As for the styling – it looks more like a piece of modern jewellery on the lanyard than the Pen did.
When using in meetings, I'm finding that just selecting the person speaking on the disc is far less intrusive than pointing the Pen at them.
Background noise cancellation seems better, too. It connects clearly to audio on my mobile phone, so I can listen to music easily.
Overall, an excellent new product and one that will be used daily. I obtained the Select via Access to Work.
Rebecca P., Norwich
Equipment supplied – Phonak Roger Select
Lisa is very compassionate, understanding and communication was excellent. Lisa taught me A LOT over the 6+ weeks that I had sessions with her and I will continue to use these going forward.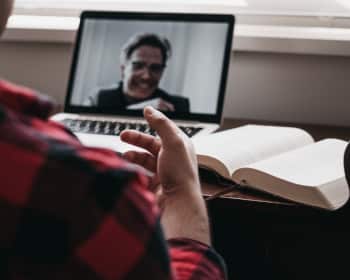 She is a credit to FM Hearing Systems and I will definitely miss our Wednesday sessions.
The course taught me a lot. It taught me to make time for myself! To take some time out if needed.
The body scan has helped me to relax at night time and if my sleep is broken then I used this to go back to sleep. It has taught me to think more positive and to be patient.
The loving kindness meditation I felt I connected practically well to. The whole course has been fantastic and I am pleased I was able to do this course!!
I would definitely recommend this course to anyone who is struggling with tinnitus.
Lisa F., Basingstoke
Course supplied – Living with Tinnitus 6 week course with homework and exercises
Hi Paul and Shaun,
My new Roger On system and using the Ambio GN 588 hearing aids is a massive upgrade for me, and is working well, and I can now hear as well as I can remember.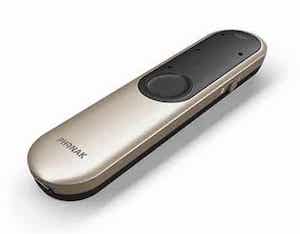 I live in Spain and commute to my daughter who lives 60 miles north of FM Hearing Systems whose office is relatively close to Leeds Bradford airport.
So, to save me having the travel problems, and cost, of getting back to their office, Shaun, Tech Support Lead, of FM Hearing Systems, immediately offered to see me on my way from the airport. FANTASTIC SERVICE.
The advice given, in a very pleasant and helpful manner proved to be excellent and I'm now enjoying brilliant hearing, in all situations, using the Roger On, that I purchased on the spot from them.
Best regards, Dave S., Spain
Equipment supplied – Phonak Roger On, Phonak Roger X 03 band, DAI shoes for ReSound Ambio 588
I have used Phonak Audeo P90-R hearing aids for just over a year now and they have provided excellent audio to support my hearing, but also additional functionality to improve my engagement with life.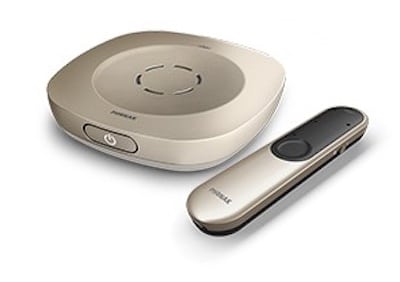 For example using bluetooth to link to my smartphone and allow me to stream telephone conversations and listen to music.
The Roger equipment I have now got adds extra value to my hearing aids in situations where I have historically had difficulty. They are helping me live my life to the full.
I was looking for extra help with hearing in background noise, meetings and general communication in challenging environments.
Both the Roger On IN and the Table Mics have helped me in meetings at work (both small and large) where I would have found it difficult to hear people in the past.
They also help me to hear people in challenging environments such as where there is other distracting speech. They work seamlessly without any fuss or glitches and provide really high quality sound.
I am quite tech-savvy and was able to set the Roger equipment mostly myself. Nonetheless, the training was really useful and showed me elements of the kit that I wasn't aware of. Will was a great trainer, was attentive and very knowledgeable about the kit.
John P., Bangor
Equipment supplied – Phonak Roger On IN, Phonak Roger Table Mic Twin Pack for Phonak Audeo P90-R
I think Roger is absolutely fantastic, it's helped me so much so far in allowing me to hear conversations better and clearer.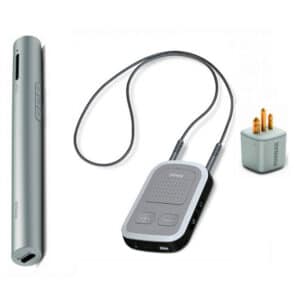 Even my manager commented as she spoke to me and I answered her straight away.
Normally, she would have to get my attention and then repeat herself as I wouldn't hear her.
The only downside is that it really does make me hear everything. So whilst it was great hearing my manager clearer, I could hear a conversation and laughing a few desks away and the rustling of crisp packets! haha.
So that's probably the only negative (if you could call it that).
Roger just makes everything so clear and whereas before, if I was working and concentrating, I would hear people talking but not hear their words/clarity, just the general hum of their voice.
Whereas now I can hear clearly what they are saying, even when I'm not looking or paying attention.
This really is an amazing piece of equipment. I like the fact it can be used in so many different scenarios too, on the telephone, with the TV etc. It's a very good piece of equipment.
Katrina B., Northampton
Equipment supplied – Phonak Roger Pen, Phonak ComPilot II, Roger X 03 for Phonak Nathos Auto Micro
Phonak Roger On has made a massive difference to me when seeing customers face to face as I can hear clearly what they are saying to me as it cuts out all background noise.
The clarity of the sound when using the telephone is amazing and not having to wear headphones is an added bonus.
Initially took a bit of time adjusting to it as I was so used to the office sounding very noisy that when it was quiet I thought i couldn't hear anything.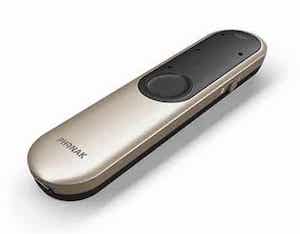 I was looking for help with the telephone, listening to audio files on a PC, hearing in background noise, meetings, hearing work colleagues / customers / friends / social and general communication in challenging environments.
Roger has definitely addressed my needs. It has helped my confidence and ability to join in more at meetings as I can now hear and follow the conversation.
It has improved my customer service skills as not having to get customers to repeat themselves and I am not offering wrong information because I misheard them.
Using the telephone is no longer a worry that I won't hear what is being said to me. It is amazing to use on my mobile phone and TV.
The training was very useful. The links that were sent prior to the training were useful in getting to know the equipment, but face to face help from the trainer was invaluable.
Will was very patient and was able to answer all my questions that I had. He was great at demonstrating how to use it.
Lynne M., Manchester
Equipment supplied – Phonak Roger On, Roger X 02, DAI Shoes for Oticon Engage, USB Headset Pack, Phone Adapter
I have worn hearing aids in both ears for 20 years, and I thought my hearing was very good with the aids, however as time went by and technology in the office got better, I found I was falling behind with my NHS hearing aids.
I therefore applied to Access to Work for help, they were amazing and through work an assessment was quickly signed off and completed and my needs were understood.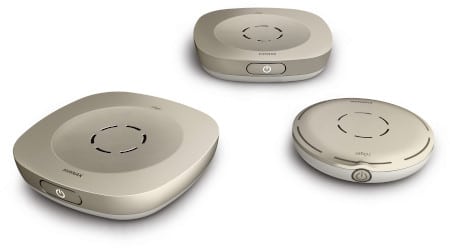 My successful application was passed to FM Hearing Systems to supply my Roger devices, it only took one call with a very knowledgeable person called Shaun who identified all my needs in a very short time.
This was passed to Emma for ordering and sign off which my work did very quickly. Then in a matter of days all my equipment arrived, and a training day booked in for the 3rd November.
WOW what a day on the 3rd November, I met with Tracey who was lovely and certainly knew what she was talking about, time was no concern, we spent the best 4 hrs together setting up, learning and testing.
Now I can use my Mac, MS Teams & mobile phones without using speakers so my calls are private, I have been in meetings with 10 attendees and heard every word, I have had 1-2-1 meetings and again the sound was amazing, and it assists in all day to day live with family & friends, I can hear really well and if need be mute out others.
My life has changed for the better. Roger is now my best friend, what did I do before Roger? Thank you all so much!
Regards, Richard S., Farnborough
Equipment supplied – Phonak Roger Select, Roger Table Mic Twin Pack, Roger X 03, DAI Shoes for Nathos S+M
We contacted FM Hearing Systems on a Sunday after our daughter's support at college failed to materialise. We needed to find an immediate solution that would help in a range of situations including formal lectures, group discussions and informal situations eg social ones.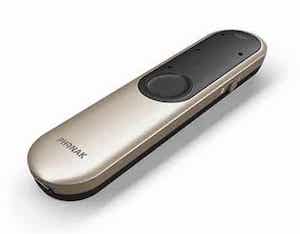 The advice had previously been to get the Roger Select but we had a problem getting hold of one.
We were told by FM Hearing Systems about the new Roger On. We did as much research as we could in the short time we had before making the decision and ordering it on the Monday.
By Tuesday the Roger On transmitter and two Roger 21 receivers had arrived and on Wednesday she started using it in college. The technology was easy to connect up.
It has only been a few days but our daughter has used it constantly at college and at home. The different modes in one device is very helpful.
She uses it as a traditional radio aid, and as a table mike. She has downloaded the app and begun using it to manage the system. It seems to give her greater control.
But what seems to have been the most useful is the Pointing Mode when she holds it discreetly pointing it towards speakers and she is able to follow conversations in social situations in background noise. It is not perfect, but it is a huge improvement.
FM Hearing Systems were really helpful and responsive and I have no doubt if we have issues in the future we will be able to go back to them for help.
It is early days but so far the Roger On has been a game changer for our daughter.
Nicki S. Southampton
Equipment supplied – Phonak Roger On, 2x Roger 21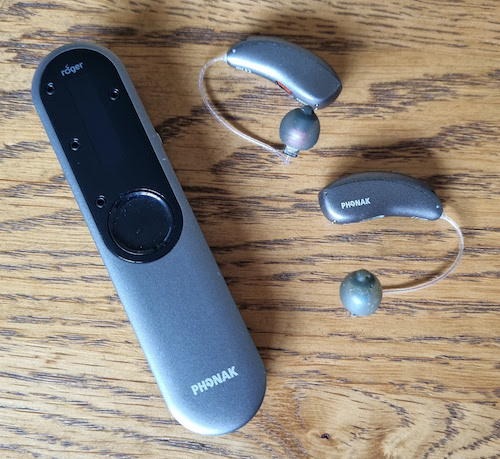 I bought a Phonak Roger ON from FM Hearing Systems. There are two versions, and it's important that you get the one that suits your hearing aids.
Emma was extremely knowledgeable and responded to all my questions very promptly and thoroughly, and in a way that I could understand.
The Roger ON isn't cheap, but I've found it makes a huge difference to my ability to hear in noisy environments, such as restaurants and shops, compared to using hearing aids alone.
If you do decide to buy one you'll want to be sure you're dealing with someone you can trust, and I have no hesitation in recommending FM Hearing Systems.
Peter G., Welwyn
Equipment supplied – Phonak Roger On IN
The quality of what I am hearing has greatly improved since getting the equipment and having it fitted.
The training provided actually helped me improve this further by little tips on how to use the equipment to it's best effect in different office environments.
e.g. one on one meetings through to office discussions through to connecting to calls.
What I learn in the office I can apply to my home/social environment. My biggest problem is giving away my Roger Pen to a presenter as I use it for everything now!
I am still learning each time I go into the office but all in all I can't thank you enough!
Colin is an excellent trainer. He knows everything about your equipment and even little tips to help you get the most out of the equipment.
He is very relaxed and it makes you feel so at ease.
I have only been deaf 6 months so every day was a fresh hell trying to hear and with his guidance I was much more confident in my new hearing and its capabilities.
Kerry D., Edinburgh
Equipment supplied – Roger Pen, Roger Clip-on Mic, Roger X 03 Band for Phonak Nathos Auto M, Phone Adapter and USB Conversion to Headset Pack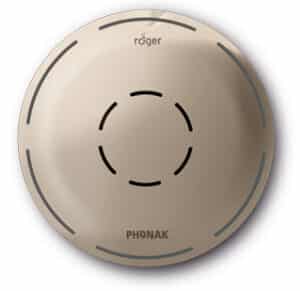 Just to let you know I've just had my first work meeting using Roger Select with my Phonak Naida P90 hearing aids.
The sound is totally different. The clarity of the aids combined with the boost of Select meant I didn't even need to look at the captions most of the time.
I've been the same with the TV this weekend. I can hear the birds and use the phone again!
To think I was referred for a cochlear implant a couple of years ago but just didn't want to go through it. I would never have believed the difference.
I do like the slider for Roger on the myPhonak app on my phone too. Really works for being able to chat about programmes or whatever.
Thanks for all your help and advice. Sandra, Doncaster
Equipment supplied – Roger Select and Roger X 03 Band for Phonak Naida P90
I've waited to report fully about my new Phonak Roger equipment as I wanted to get used to it before feeding back. I wanted to add to you and the team directly a HUGE THANK YOU for all you have done.
Your service has been excellent and Dan the trainer was very helpful when he came to visit.
The equipment itself is just wonderful. I am still acclimatising to all it can do but I'm getting increasingly confident in many areas now.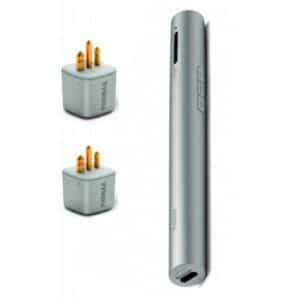 Its making a difference at work and home. Being able to watch the TV with the family at their volume and without subtitles is thrilling.
Listening to music has taken on a new dimension entirely and I've shed a few tears at hearing things never before noticed in some pieces.
I've been able to attend online meetings and feel relaxed and involved. These things have not been a given before and that is amazing.
I have had my Roger Pen a couple of weeks now and I'm loving it. I feel I'm still learning how to use it and have not yet tapped into all it can do – some of this is because of lockdown and the fact that I'm not attending meetings etc in the normal way.
What I have used it for though has been transformative and I'm delighted. I will know more of its full potential when we get back "out there" about which I'm excited as I feel sure (based on what I'm doing with it now) I'm going to be able to use the equipment to great benefit.
I wasn't sure exactly how it would help but I was hoping to use it in my work as a trainer and counsellor which I am doing now on line. It has made a huge difference to this and I feel more relaxed and confident when delivering.
It is also wonderful to be able to hear on phone calls and to listen to podcasts/music/TV – I've heard sounds in a new way and things I had not previously heard.
Training was very helpful. There was lots to take in and a tip I followed and would share is to have someone with you who can also ask questions and learn with you. It makes it easier after when putting it all into practice!
I would also suggest having the equipment at home for a short while to familiarise yourself with it before the trainer comes – just be used to handling it and knowing which button is which.
With best wishes, Helen H., Salisbury
Equipment supplied – Roger Pen, Roger X 03 Band, DAI Shoes for Phonak Nathos Auto M
One of the best days of my Civil Service life, what a revelation this Roger Pen is!
What made it even more special was that my trainer William wore hearing aids as well which made it so much personal as he spoke from experience as to how the Pen works.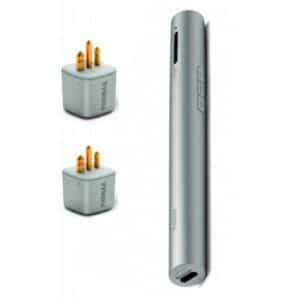 The trainer went through all the gubbins etc and the final test was for my deputy manager to ring me on the phone, it was pure joy as the sound was so clear and she could hear me perfectly.
We were both as excited as each other as it has been such a worry in jumping through all the hoops and whirls to get to this stage. Next hurdle to conquer will be a Teams Meeting.
I tried the Pen out at home to see how it works, I managed to ring my friend using the Bluetooth on my mobile and it was a joy to use, I spoke to him for about 20 minutes and he said that it was so clear.
When I can I am going to buy a Roger Pen for myself at home unless that is the DWP would buy me one for Xmas 🙂
Lastly now when I pick up the work phone the sound goes direct into my hearing aids so I will be using my phone more now.
Regards, Jerry R., Newcastle
Equipment supplied – Roger Pen, Roger X 03 Band, DAI Shoes for Phonak Nathos Auto UP, USB Conversion to Headset Pack and Phone Adapter
I haven't used the Roger Pen to it's full potential yet as I am still working from home due to Covid. However the training was excellent and Lee explained everything very clearly and was able to answer my questions.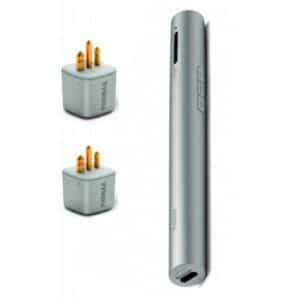 I realised that I would benefit from the USB conversion to headset which was not purchased at the time of ordering the Roger Pen but Lee was able to demonstrate it and let me try it out before I went ahead to order it.
Here I am two weeks later with the headset which is amazing and a lot better than the traditional headset I was using that was not comfortable sitting over my hearing aids all day.
I had a teething issue with the equipment and Shaun in the office was very helpful and quick to resolve the issue. The aftercare is second to none.
The Roger Pen has addressed my needs and has gone over and above my expectations and provided me with more use than was originally anticipated.
The training was very useful as Lee was able to help me download the app and showed me the different things I could do which would not have been possible via virtual training.
He came with a wide selection of accessories which enabled me to see what more I was able to do with the Roger Pen.
Cheryl W., Loughton
Equipment supplied – Roger Pen, Roger X 03 Band, USB Conversion to Headset Pack and Phone Adapter
I am very happy with the Roger equipment. I was struggling with the face mask and it has proved difficult especially working at the hospital.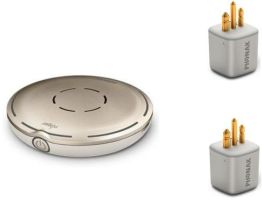 Using the Roger equipment has helped enormously , helping me to understand what is being said.
The Roger equipment has helped me to gain confidence in helping me to communicate with work colleagues and patients, especially with the background noise.
I have used the equipment outside work socially and it is great! It is good to be able to join in conversations in restaurant and pubs, being able to hear over the background noise.
The favourite is being able to hear music more clearly, that is such a bonus. Thank you!
Tracey the trainer was so helpful and friendly. She showed how the equipment works and explained everything in great detail making sure that I understood everything and gave some few helpful tips, thank you Tracey.
Beverley P., Farnborough
Equipment supplied – Roger Pen, Roger Select, Roger X 03 Band, DAI shoe for Phonak Nathos Auto SP and Phone Adapter
The service was amazing, I received responses from emails within an exceptional time. I felt that my needs were the primary focus throughout.
The training was provided on a compassionate and understanding level which allowed me to ask honest and at times personal questions.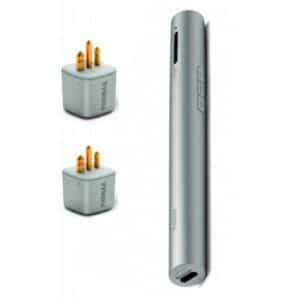 Overall, I cannot be happier with the entire process; the equipment has allowed me to finally be able to complete my role within the workplace to a satisfactory level. THANK YOU!
Roger now gives me the ability to communicate much easier with colleagues. It was allows me to use the phones effectively but also with the settings in place, I am able to 'drown' out that background noise to really hear the phone call to the best of Rogers ability.
I am able to hear in meetings much clearer using the directional setting on Roger!
Finally, given the recent situation with COVID-19, it has become mandatory to wear face coverings in my workplace, this caused a huge amount of distress due to being a lip reader.
Roger has now given me the ability to hear through the masks!! I can honestly say; this has all been amazing and thank you!
The training was very informative. I had Dan and Nick arrive and provide me with the training required. I felt I could ask questions on all levels, personal, work related, etc.
The gentlemen also helped me to set everything up, connect to all devices necessary and I made a CLEAR phone call in my workplace for the first time in 8 months!
I couldn't be more satisfied at this level of training. The trainer was very professional, understanding and passionate about his role and the information he provided. Thank you!
Amy T., Wareham
Equipment supplied – Roger Pen, Roger X 02 Band, DAI shoe for Oticon Synergy Sense and Phone Adapter
I'm pleased with how straightforward the process of setting up my Phonak Roger equipment was. Dan the trainer was very efficient and helpful in his role as a trainer.
I think the equipment overall is very good, I'm impressed by how helpful the equipment is to me on days where my hearing is more impaired and I am unable to use my standard headset equipment.
I am also pleased with how Dan instructed me on the equipment's compatibility with devices at home, or in meetings, explaining to me how useful it can be in other social situations or when I watch tv where my hearing may be impaired and how I can utilise the equipment.
Dan also specified for me the additional program that my hearing aid doesn't already have that will be beneficial for me in cancelling out background noise, because I work in an open plan office that is particularly chatty and busy, he adapted to this for me and explained the benefits of having the audiology department add this onto my hearing aid to further help me.
My primary needs have been addressed, and it has helped in multiple areas I did not expect – It was more straightforward than I expected.
When I picked up the equipment I firstly thought there was quite a lot of equipment and I thought it was going to be somewhat complicated, however the simplicity of the equipment and Dan's efficiency really put my mind at ease in this sense and I found everything very easy to understand.
I found the on site training to be very useful as I got to see my equipment being set up from my desk, as well as a test of the equipment being used.
I got to trial this with both my softphone on my computer, and my deskphone. I specified to Dan that I was happy to still have access to both phones as my hearing ability fluctuates due to the lack of oxygen in my middle ear – sometimes I don't feel the need to use additional equipment and I am most comfortable having the option to use it or not to use it depending on how I'm feeling and hearing.
Tayla, Cardiff
Equipment supplied – Roger Pen, Roger X 03 Band, DAI shoe for ReSound UP977 and USB Conversion to Headset Pack
I'm a physio, so being able to listen to clients is critical. I've been single-sided deaf (for the last 18 years), so I could still manage, but it was pretty exhausting. I hadn't realised, but I had gradually started to withdraw from social situations, especially eating out, having people round to the house etc. I did a lot of sports coaching, but found sports hall environments a nightmare to hear in. I could never hear my husband if I was the passenger to his driver in the car, unless he spoke in a very high-pitched voice!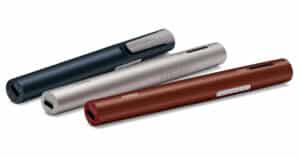 Then I found out about the Roger system, got myself a Roger Pen, a Roger X receiver and an audio shoe on my NHS Phonak Bolero V50 aid.
Then I got some training from Amanda on behalf of FM Hearing.
Total life-changer. I can hear in group situations; I can hear my clients; I can hear my husband in the car; I can hear what the kids are saying when they talk fast.
I'm not great with technology, and so the training with Amanda was perfect. Amanda was patient, explained everything clearly and tailored the session to my particular needs. Not only that, but she helped me out with information re Roger that is pertinent to my bilaterally deaf dad, in the hope that we can bring him back to some sort of social life too (and save my mum from all the shouting/repeating!).
I didn't think the training would be needed, as FM's YouTube guidance and troubleshooting section on the website is excellent, but the training was worth every penny, both at the time, and in follow up queries.
FM Hearing have been prompt, responsive, clear, supportive and thoroughly professional in all their interactions with me, and I'm delighted with the product, the services, the personnel but mainly with the BRILLIANT improvement in my quality of life. Thank you.
Also the ability to listen to a podcast on my phone through my hearing aids: that was amazing! And to be able to walk the dog and phone my mum (tiring to do with only one hearing ear, pre Roger) has been great.
I'm self employed sole trader (physio), so "on site training " was at my house with Covid parameters in place. Amanda came to my house, carefully prepared me for necessary parameters, brought her own drink, hand sanitiser, facemask and maintained social distancing at all times.
Training was excellent, added bonus of info re research into the product too, which I found fascinating. There were many more possibilities than I had anticipated for use of the Roger equipment, and I wouldn't have thought of trying them had it not been for Amanda.
Jo R., Altrincham
Equipment supplied – Roger Pen, Roger X 03 Band and DAI shoe for Phonak Bolero V50 P CROS
As my family live some distance away and abroad, being able to hear them properly during video calls on my laptop is essential.
Now that I can use the audio facility on my Roger Pen their voices are much clearer which is wonderful.
I was also helped enormously by Dan, my accredited FM Trainer, to be able to watch and listen to my television by streaming it directly into my hearing aids.
This is very effective and I can now hear every word!
When at work I now understand how to maximise my ability to hear which is invaluable. Dan was patient, clear, helpful and invaluable with all he helped me with.
Cynthia S. Lyme Regis
Equipment supplied – Roger Pen, Roger X 03 Band and DAI shoe for Phonak Nathos Auto M, Phone Adapter
I've not been able to use a landline phone in an office setting with any confidence until I had this equipment installed!
It's easy to use and all the additional programmes on both the Roger equipment and my hearing aids, for example the Pen only setting to cut out back ground noise, is fantastic.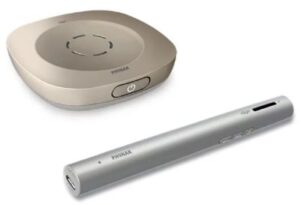 I also feel confident to join in group discussions and be able to following large meetings and training sessions with the Table Mics without getting so exhausted.
Unfortunately the bluetooth connection to my mobile phone was faulty in the Pen but this was quickly identified and a replacement arranged. I am looking forward to using this when I am out and about and feel confident I can set this up.
Roger has really helped with the back ground noise cancellation, this is always a huge problem and can be so exhausting. Being able to use the office phone again is great, it includes me in the team. I can join in chit chat in the office better, so feeling less isolated.
Using the equipment at home as well as work means I can clearly hear my children again, they get so frustrated after I've said pardon 3 or 4 times!
The on site training was invaluable. Dan is an excellent communicator and he explained everything really well at a pace that suited, he is very knowledgeable and clearly has lots of experience with the equipment. He could answer all my questions.
Amber B., Falmouth
Equipment supplied – Roger Pen, Roger Clip-on Mic, Roger Table Mic Twin Pack, Roger X 02 Band and DAI shoes for Oticon Spirit Synergy, Phone Adapter
I have the Roger Select and the Roger Table Mic II, they both link together for meetings or lectures.
The Roger Select easily and cleverly links to the phone systems enabling me to answer the phones quickly and efficiently while not altering any phone settings so as other members of staff can still use it too without detaching my select connector bases.
I have the system as I work in an office with 6 other members of staff and at times listening to each other let alone answering the telephones can prove to be extremely challenging for me.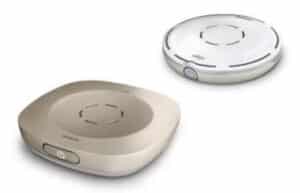 The Roger Select has helped in that it can be used to concentrate on one person talking. It doesn't silence the others around me totally but it does amplify the person the Select has picked up.
The training was very useful. James explained the whole system to me and how they can all link together and be used separately.
He explained everything you could possibly need and how to connect them to the phone system.
The instruction books are good and the videos on YouTube are great but the one to one on site training was fantastic and I learnt things that I hadn't read about in the books.
James explained all the kit and wires and then gave good practical instructions on how to use it while I try to repeat the processes myself with him watching what I am doing.
Sarah S., Leicester
Equipment supplied – Roger Select, Roger Table Mic II, Roger X 02 Band and DAI shoes for Oticon Synergy, Phone Adapters and Extra Docking Stations
The equipment is great! I have hearing loss in one ear and I was concerned about how It would benefit me considering I have natural hearing in one ear but it has been great so far.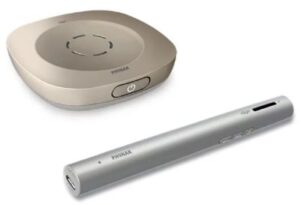 Roger Pen is great for using with the phone as I can clearly hear the person I'm speaking to.
It has also addressed the needs of helping me to hear colleagues around the office and this is something I wasn't expecting. I'm looking forward to using it in meetings and feeling more involved knowing I can hear everything that's being said.
The trainer I had was amazing. Gemma was incredibly friendly whilst still being professional and I felt at ease with her. She was great at explaining clearly how to use the equipment and was thorough allowing me to process it all.
You are also offered the opportunity to have someone with you in case you want them to take notes or if you're not good with technology and I think this is a great idea.
Gemma checked if I had questions and ensured I was happy before she left and I felt as though the training was informative and I fully understand how to use my equipment now.
Danielle M., Swindon, Wiltshire
Equipment supplied – Roger Pen, Roger Table Mic II, Roger X 02 Band and DAI shoe for Oticon Spirit Synergy, Phone Adapter
I have profound hearing loss in one ear and severe loss in the other and recently bought a Roger Select iN device to use with my Phonak Marvel hearing aids.
The Roger Select iN has been life changing! I have used it in a variety of settings so far and the clarity and volume of sound that I can now hear is absolutely amazing.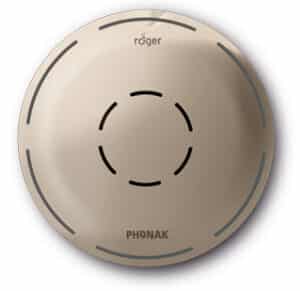 I have used it at a dinner dance with 300 guests and live music and was able to hear and join in the conversation at the table with total ease, and some others at the table commented that I could hear better than they could over the background noise!
I have used it in restaurants with background music and noise from other diners and have totally forgotten that it is even on the table and just been able to join in the conversation with everyone. Being able to select directional microphones depending on who is speaking is really helpful and allows me to focus on individual conversations around a table when I want to.
I also use Roger Select iN at work. I work in court rooms on a daily basis, many of which are large and have poor acoustics. I put the device on the desk in front of me and am able to hear everyone in the court room with clarity, even if I am not looking at them and do not have the benefit of lip-reading, which is what I relied on previously.
The device is so small and portable that it now just lives in my handbag and I can take it out and use it whenever I find myself in a situation with loud background noise or where I am trying to hear voices at a distance. My friends and work colleagues are all now fully acquainted with "Roger" and expect to see him at the table whenever we go out!
I cannot sing its praises highly enough – it has opened up a whole new world for me of being able to attend social events without worrying, and being able to concentrate on my work without having the added stress of making sure that I can hear everyone.
The help and support that I had from Paul when choosing which Roger device to buy was second to none. He listened to my needs and my priorities and went out of his way to help me secure the best device for me and to understand how to use it, and I would have no hesitation in going back to him for any future needs even though he is a 2 hour drive from where I live – thanks again Paul!
Cheers, Zoe, Sedgefield, Co Durham
Equipment supplied – Roger Select iN