Oticon ConnectClip – £149.17 ex VAT – £179.00 inc VAT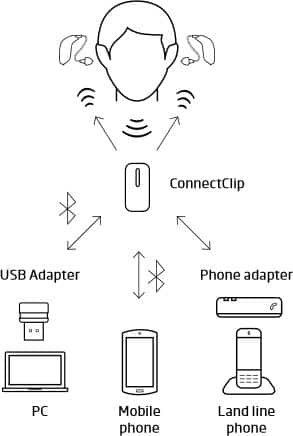 This product is available to UK customers only.
With ConnectClip, anyone with an Android, iPhone or any other smartphone can now turn their Oticon OPN / Siya / Xceed / More hearing aids into a high quality wireless headset for making hands free calls or playing music – or any kind of audio.
Please note – Oticon ConnectClip will NOT work with models of Oticon wireless compatible hearing aids previous to Oticon OPN / Siya / Xceed or any current NHS hearing aids, if unsure please ask.
Using cutting edge 2.4 GHz Bluetooth Low Energy allows Oticon ConnectClip to steam calls to both ears in high quality sound, and the OpenSound Navigator in ConnectClip transmits clear speech that is free from unwanted noise.
ConnectClip can also function as a remote microphone, a remote control and more.
Industry-leading features
ConnectClip makes Oticon OPN / Siya / Xceed / More into a leading Bluetooth headset-enabled hearing aid with these leading features (in addition to the revolutionary open sound experience):
Streaming to both ears in stereo – not just one ear as with classic Bluetooth
Leading 7.5 kHz audio streaming frequency range gives high-quality sound that's easier to understand
Lower power consumption of Bluetooth Low Energy allows small battery size for smaller hearing aids
Opn hearing aids can be equipped with a rechargeable battery
True hands-free solution with a microphone optimized for the purpose, using OpenSound Navigator for quality sound reception
No compromise on hearing aid audiology – ConnectClip has its own advanced Velox chip
The Connectline Microphone ships with a UK mains charger and can also be charged via a USB to mini USB charger.
NB. The Oticon ConnectClip can be paired by the user without the intervention of a hearing specialist BUT the hearing aids MUST have at least firmware version 5.0 installed on your hearing aids. Hearing aids supplied from 2018 onwards can safely be assumed to have firmware version 5.0 or newer. If you have an older firmware version than 5.0 you will need to ask your local hearing specialist to apply the firmware upgrade (you may be charged a fee for this service). ConnectClip does not work with all hearing aids in the Oticon range, our suggestion is that you contact us via our webform on the Contacts page with details before purchase and we will advise accordingly.